Solution Spotlight: TextScore®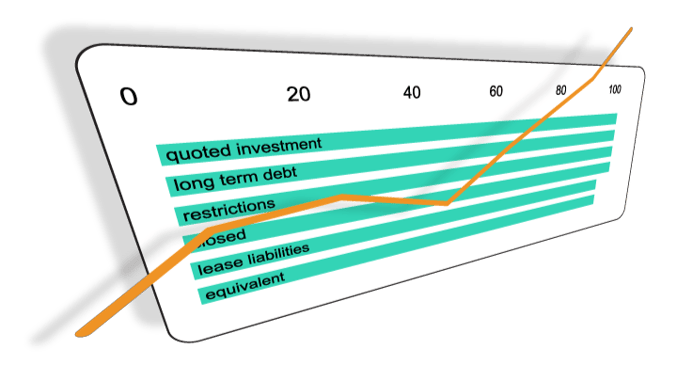 Introducing TextScore®
TextScore® is our unique tool that harnesses the power of natural language processing (NLP) to help our clients uncover financial risk. It allows you to look at risk through a different lens, rather than focusing on purely financial analysis. So, how does it work?
This innovative tool delves deep into the text of the financial reports of publicly listed and large private UK companies. By analysing the sentiment of thousands of words and phrases, it extracts insights and flags stress indicators. If the language or word patterns are similar to those of a company that has failed in the past, the company in question is likely to be at risk also.
Based on this analysis, TextScore® provides you with a score between 0-100. To provide our clients with the most robust risk assessment on the market, we run TextScore® alongside H-Score®, another of our cutting-edge solutions, resulting in a blend of the two scores. A Combined Score.
What is our Combined Score? 🔢
TextScore®

works alongside our market-leading financial health performance tool, H-Score®.


While

TextScore® focuses on text analysis,

H-Score® looks at a company's financials from all angles.


The Combined Score is a weighted combination of the two. The exact weighting also considers the industry sector of the company in question.


This score provides our clients with the most accurate predictor of corporate distress and the best insight into the underlying financial health of a company.
The Combined Score, also scored between 0-100, indicates whether or not a company falls into our Warning Area. Companies in our Warning Area have a score of 25 or less. Nearly every company that goes into distress is flagged in our Warning Area well ahead of the distress event.
---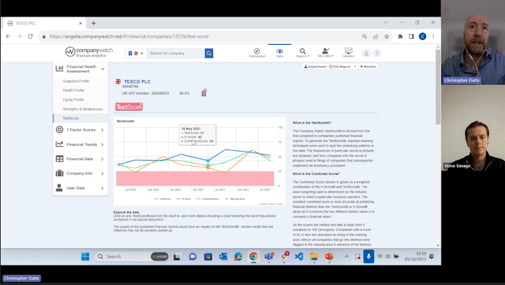 ---
Why our customers choose TextScore®
During times of economic upheaval, our customers need to feel confident they are not exposing themselves to financial risk. With inflation remaining high and conflict escalating in the Middle East, uncertain times are set to continue. A simple credit check is not enough. A company's finances might look solid on the surface, but what's lurking beneath?
At Company Watch, we're proud to help our clients with innovative tools like TextScore®, providing them with the extra layer of protection they need. The unique features of this tool mean that it is highly efficient at detecting distress long before it is reflected in a company's financial statements.
Features our customers love
Implied industry function 🏢
Every business has a standard classification code (SIC) at Companies House, indicating the industry they operate.





Often, the code a company provides is not reflective of what the business actually does.




The industry in the filing account might have a much lower probability of distress than the true industry. Therefore, indicators of stress could slip under the radar.



Our implied industry function gives our customers a percentage in seconds, indicating the true industry the company is in.
Word phrase count 📊
TextScore® extracts a list of words and phrases occurring with high frequency.




Our clients can easily spot any repeated negative words or phrases. For example, 'fraud,' 'decreasing', or 'onerous provisions.'


Using the search function, clients can find the exact point these keywords occur in the document.
Search function 🔎
For a document to be readable by TextScore®, it must go through an optical character recognition process. The document is then reconstructed.


This process means that you can use the 'ctrl + f' function on the document to scan through any of the keywords TextScore® has flagged.



---
💯🏆
---
The key benefits of TextScore®
At Company Watch, we're constantly innovating so we can provide the latest and best solutions on the market, and our results speak for themselves. TextScore® is identifying a high number of insolvencies well in advance of distress events.
Here are some of the key ways that TextScore® can help your business:
Time-saving ⌚
We know businesses struggle with the Companies House database - it isn't exactly user-friendly. The traditional way for risk analysts to gauge if a company might be in distress is by analysing their records directly from Companies House. These records are saved as scanned images, rendering them unsearchable using a computer. The only way to find the information you need is by manually examining the records.
TextScore® solves this problem in seconds with our word phrase count and search function. For example, if TextScore® flags 40 mentions of the word 'fraud,' you can open the document and search for that word using 'ctrl + f'. This instantly brings up every mention of it throughout the document and you can easily scroll through and understand the context better.
Robust risk analysis 📈
A purely financial risk analysis, like the one provided by H-Score®, will assess a company's most recent financials. A company might appear in good health and have an H-Score® outside our Warning Area. But often, a company's distress might not be reflected in their accounts until the next filing period.
TextScore® analyses both annual and interim reports, picking up any signs of distress not visible in the financials. Our Combined Score provides you with a double lens of financial risk analysis.
Competitive edge 🏆
Other, basic credit checks are likely to miss key indicators of distress. The innovative nature of TextScore® gives you an unbeatable edge in today's fast-paced financial world.
You won't find tools like TextScore® anywhere else on the market. Unique features like our Combined Score and implied industry function, give you a much stronger picture of a company's health vs other providers.
Find out more about how TextScore® can help your business - start your free trial today.