Celebrating Our 25th Anniversary - Here's The Journey We've Been On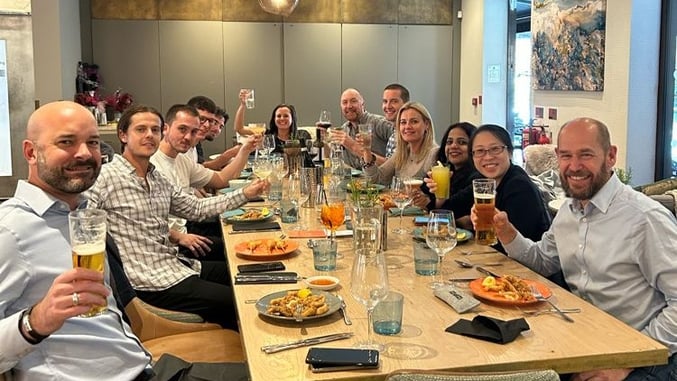 A word from our CEO
As we celebrate our 25th anniversary at Company Watch, I've been reflecting on the journey we've been on so far. I joined as CEO recently, but the business itself has a long and interesting history. Company Watch launched in financial risk management in 1998. Since then, the business has been on a mission to disrupt the market and position itself as an industry leader. It's been my pleasure and privilege to be part of that journey.
Company Watch is now established as a leading supplier of financial risk solutions. We're proud to be trusted by household names like HSBC and Allianz. While there have been challenges along the way, we've continued to go above and beyond for our customers to provide outstanding service.
The dedicated team at Company Watch is the key to our success. It makes me proud to lead a team that strives to deliver the excellent products and services that we do. We spoke to longstanding and new talent on the team, to better understand how Company Watch has grown and changed over the years.

Craig Evans, CEO
A look at the past and the present
When Company Watch first set out in 1998, we wanted to provide a definitive way to score financial accounts to manage credit risk. We've been busy over the last two decades!
We've grown substantially in this time, and have created a suite of market-leading tools. These tools give our customers an unbeatable edge when it comes to financial risk analysis. But it hasn't always been this way. We talked to one of our longest-serving employees, Dagmara Dettlaff, about the early days of Company Watch:

Dagmara Dettlaff, Product Support Executive
"When I started at Company Watch, we only had two risk management tools. Over the years we've released a wide range of new award-winning products. I remember a time when we entered financial and non-financial data manually to create reports. Now we have our amazing product, TextScore® that does this for us using machine learning."
The past few years have been productive as we focused on growth. We've had a number of successful product and data launches and a major upgrade to our data warehouse technology. We've also had a lot of new client logos partner with Company Watch. At the end of 2022, we said goodbye to our CEO, Jo Kettner, and welcomed Craig Evans into the role. Craig's 30+ years of industry experience has brought a wealth of knowledge to the position.
How has all this change and growth affected our culture and company values? We asked our Marketing Manager, Steve Savage, for his thoughts:

Steve Savage, Marketing Manager
"It's a very friendly team and everyone makes you feel welcome. We have a collaborative culture and inclusive work environment - ideas are encouraged and teamwork is valued. Company Watch provides good opportunities for training, skill development, and career advancement."
Recent challenges and successes
One of our biggest challenges for 2023 has been the conclusion of our Atlas project. Atlas has been a huge move for us, from a legacy on-premise infrastructure, to a complete cloud infrastructure. While this has been a big project, it has been incredibly rewarding. It has allowed us to future-proof Company Watch, by providing greater security, insights and quality control. One of the most important benefits is helping us to reduce our energy consumption and improve our carbon footprint.
We are grateful to have enjoyed lots of success in recent years:
In 2021, we launched our branding refresh along with our new website. We've been pushing out high-quality content since, helping us win new clients.

2023 has been our best year commercially in terms of both business growth and profit.

In July we successfully launched the UK's first-ever tool to tackle Phoenixism, using our advanced director matching tool. It allows our customers to uncover directors with hidden histories of insolvencies.
We're proud to have won the CICM Risk Management Award for the past two years in a row, and have been nominated once again for next year's award.
What's next for Company Watch, Craig Evans
As I think about what's in store for us over the next 25 years, I couldn't be more optimistic. We are on an exciting journey to drive the industry forward with innovative new technologies.
Our net organic growth of 17% this year is a testament to our standing as market leaders. Our new logo customers and existing customer base trust us to provide the best financial risk solutions on the market. In today's volatile market, customers need to feel confident; that's why they turn to us.
We've been disrupting the market since the early 2000s and we've barely scratched the surface of what we can achieve at Company Watch.